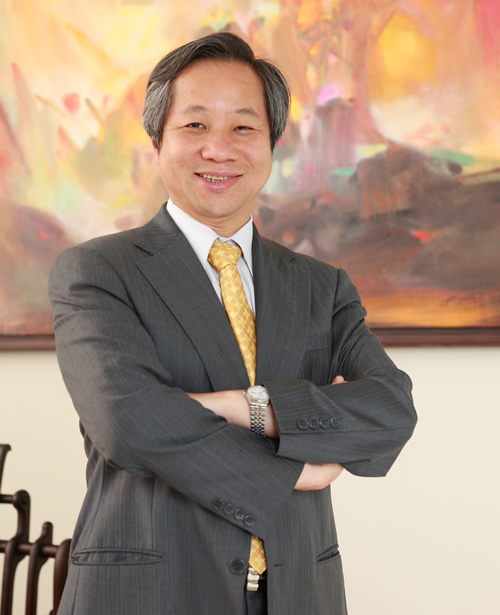 Message from the President
It was with a heavy sense of responsibility that I became the 13th president of National Taiwan Normal University in February 2010. I took it as my mission to transform and reorganize NTNU. In the past five years, I have made every effort to undertake the task in order to meet the expectations of faculty and students.
Upon the inception of my position, I announced nine areas of development and five strategies of implementation as the core of my administration. The "Nine-Five" conception was to be materialized in concert with unhindered communication and mutual support between administration and teaching units. Since I started my term, I have been fortunate to gain the trust and support of faculty and students in order to promote and elevate NTNU. NTNU has gained a wide recognition in global higher education. In the QS World University Ranking, we rank 376th in 2015 and 22nd in education by subject. In addition, we have been granted substantial funds in the form of Teaching Excellence Awards and Top University Awards by Taiwan's Ministry of Education.
During the process of implementation and reformation, I have been impressed with the selfless devotion and high efficiency of both administration and research faculty and staff. What is most valuable is the change that has been slowly taking place in both perception and practice among faculty, students, and staff. I am proud to say that in the five years since 2010, NTNU has transformed from a teachers' training institution to a comprehensive university, which I regard as being reflective of the lead spirit that pushes us ahead.
When I began my second term, I conceptualized the vision of "NTNU Happy Haven: Accord, Respect, Efficiency, and Excellence," which includes the following goals and objectives.
Benchmark Elevation: To identify, emulate, and surpass the benchmarking targets.
Rolling Innovation: To rotate administrative cycles and ensure high proficiency.
Administration Equality: To actualize Key Performance Indicators systems.
Campus Globalization: To foster a free, autonomous, and globalized campus life.
Academic Excellence: To promote world-class research and academic performance.
Productive Fund-raising: To launch new ventures and expand university budgets.
Campus Tolerance: To respect differences in a multicultural environment.
As we know, the foundation of a nation lies in education and there's no end in the cultivation of a holistic person in education. Since NTNU was established in the aftermath of World War II, the university has overcome many barriers and earned a high reputation nationally and internationally. It is with a humble heart and decisive passion that I continue to strive for the further enhancement of NTNU. With your support and joint efforts, I envision the next decade to be one of academic excellence, social enterprise, and global competitiveness at National Taiwan Normal University.

Dr. Kuo-en Chang,
President